"In the lands of Middle-earth, legend tells of the dark Lord Sauron,"

"and the Ring that would give him the power to enslave the world."

"Lost for centuries..."

"...it has been sought by many,"

"and has now found its way into the hands of the most unlikely person imaginable..."

"No, no, no! Not him! No-- the other bugger over there!"

"Right. That's the one. Yeah... he's screwed."
XenoCorp (XC) Pictures
in association with Monty Python
presents
J.R.R. Tolkien's: Fellowship of the Ring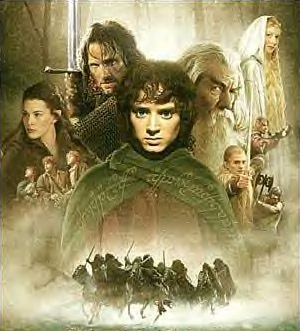 J.R.R. Tølkiën's: Fëløwshipti uv den Råingen
Written by:
James Haines
(aka: Hstaphath - The Official Bard of XenoCorp)
Røten nik Akten Di
With:
Aragorn, Boromir, Frodo, Gandalf, Gimli, Legolas, Meriadoc, Peregrin, and Samwise.
Wik
Also appearing:
Tom Bombadil, Barliman Butterbur, Celeborn, Elrond, Bill Ferny, Firiel/Mercé, Galadriel, Haldir, Harry, Lobelia, Lotho, Saruman, Ferdibrand Took, and the Evil Dark Lord Sauron.
Alsø wik
Also also appearing:
The Balrog of Moria, the Nazgul Who Say "Ni," the Uruk-Cows, the Anorien People's Front(or is that the People's Front of Anor?), and the lovely and talented harem ghosts of Arthedain.
Alsø alsø wik
Wi nøt trei a høliday in Røhän dis yër?
See äll de løveli hørses
De wøndërful gølden häll uv Edørås - Medusëld
Und mäni interëstink Røhirrim who tälk aløt lik dis (und vøld møst likli trëi und kill yøu)
With special extra thanks to:
The XenoCorp Crew for putting me up to this in the first place, the Dynaverse Fan-Fic Writer's Group for helping me make it through to the end, to J.R.R. Tolkien's estate for not taking legal action (yet?), and to Monty Python for reasons obvious.
Includink de majestik cøw
My sistër once stëpped in cøw pøøp...
No realli! She was karving her initials øn de cøw wik de sharpened end uv ån øld tøøthbrush given her bëi Mablung (her broder-in-law) - ån Osgiliäth dëntist und star uv mäni Gøndoriån møvies: "De Høt Händs uv ån Ithiliën Dëntist, Fillings uv Passiøn, De Huge Mølars uv Børomir..."
We apologize for the fault in the subtitles. Those responsible have been sacked.
The characters and incidents portrayed and the names used in this parody are fictitious and any similarity to the names, characters, or history of any person is entirely accidental and unintentional. Honest. And I did NOT have sexual relations with that blasted cow!
Signed: SARUMAN THE WHITE
The directors of the firm hired to continue the credits after the other people had been sacked, wish it to be known that they have just been sacked.
The credits have been completed in an entirely different style at great expense and at the last minute.
Executive Producer:
"Bobo" The Wonder Dwarf
Producer:
Steve "Spank My Dwarf" Ferret
Assisted By:
Fundin J. Dwarf
Ori Q. Dwarf III
Gloini L. Dwarf Jr.
Borin C. Dwarf IX
Directed By:
40 Specially Trained Lonely Mountain Dwarves
7 Disney Dwarves
142 Iron Hills Whooping Dwarves
14 Northern Eriador Gnomes
(possibly related to Dwarves, though everyone denies it)
GIMLI - DWARF OF THE FELLOWSHIP
And, lastly, 76,324 Lawn and Garden Dwarves
From "Dwarves-R-Us" Ltd. in Erebor